I live in Houston and New Orleans is just far enough for a good long weekend trip but not too far that will require you to fly.  So, it becomes a great alternative for college kids rather than Cancun or other beach towns.   Then as you get older you start appreciating it less for its cheap daiquiris and more for its architecture and charm.
I have been to New Orleans so many times I cannot count.  Between college roadtrips, Mardi Gras, Jazz Fest, and work events, I have experienced a lot of the city.  Even with all that, it is one of the cities that I can just keep going back to over and over again.
Now, before you start reading this and get all opinionated, remember that there are so many things to do in NOLA that you cannot begin to have a complete list of everything.  Feel free to add your favorites in the comments below.
By the way, if you don't know it already: NOLA = New Orleans, Louisiana
Food
I could go on and on about the food in New Orleans.  If you have been there once, you know what I am talking about!
First, let's just go ahead and say that you should not go to New Orleans if you are on a diet.  Just don't.  You will be miserable.  Most of the food there is in a fabulous gravy or on bread, or fried!  I guess you could eat salads, but that would be so sad!
Things you must try:
Beignets at Cafe Du Monde – These are little fried donuts.  The place is open 24/7 so take advantage of that.  Do not go at morning time as it will be packed.  There is mainly outdoor seating but there are a few tables inside.  People line up to sit outside because of the view of street performers, but trust me you will see enough of that.  Go sit in the AC!   Be ready to order when the staff come to take your order.  The menu is on the side of the napkin holder.  They only take cash.
NOLA – Or any of Emeril's restaurants.   I prefer this one as it is snappy casual and has a great menu.  The others are just as good.
Red Fish Grill – I have had many parties (work, wedding, fun) here.  They have fabulous food, and the staff knows how to treat you.  It is on Bourbon Street, but don't let that fool you as it is high quality and a good time.
Chop House – If you want a nice dinner this is the place to go.  You will spend some money and it will be so worth every penny.  I don't eat beef, but it is still one of my favorite places.
Mothers – This is the restaurant that I must go to each time I am in NOLA.  You cannot find food like this anywhere else.  It is a steam table set up and you wait in line to order.   Their etouffee omelet is to die for and the biscuits are just wow.  Also the beans and rice are insane.  Yes, Beans and Rice.  Just try them and you will never be able to eat them anywhere else.
Activities
There is just so much to do in NOLA that it can be overwhelming.   You could just spend your entire trip walking around the French Quarter.  I highly recommend you spending at least three, er one, day just walking around.  You will find street vendors, performers, shops, etc that will take up your entire day. Best of all, with the exception of the tips that you will give the performers, it doesn't cost much.  And please don't be a jerk and not tip.  You stood their and watched the show; cough up some change.
There are significant amount of street vendors (and palm readers!) around Jackson Square.
The aquarium is something fun to do on a hot summer day.
At the end of the French Quarter is the market.   It is worth a stop in to see the various alligator on a stick and buy a souvenir.   People rant about it.  I do not.
The trolley is a neat way to see the city for cheap.  There are several stops in the Quarter and you can just ride around.
The garden district is something nice and different to do.  If you have a car I'd recommend you spend a little time looking at the homes.  There are tours you can take too but I just like looking at the older homes.
Tours
As you know I am not big on taking tours.  However, there are a set of tours that I just love.  I find them entertaining and sort of educational.  The Haunted History tours is something you should definitely check out.  They meet in front of Jackson Square.  You get to walk around the Quarter and see things you wouldn't normally notice (like the corn fence).    I prefer the vampire tour to the ghost tour but they are both a fun time.  Plus, you stop half way at a bar to get a drink where you normally wouldn't.
NOTE: I was there once and unable to consume alcohol.   My husband ordered me a hurricane without alcohol and the bartenders didn't even flinch.   They made me a fabulous drink that I also enjoyed with the crowd.  Don't let the massive amount of booze prohibit you from going to NOLA.  You will be fine.
Places to stay
I have stayed in many places in NOLA.  Do not even attempt to stay anywhere but the French Quarter unless you have a good reason to do so.  It isn't worth the hassle.
My favorite spot is the Sheraton on Canal.  Followed by the JW Marriott on Canal.  If you are looking for something a little more touristic, Monteleone is really nice and in a great location.
Things to remember
First and foremost, unless you are going in the dead of winter, New Orleans is hot.  And I don't mean dry hot.  You will be on the gulf and Mississippi River.  That is a lot of water.  The humidity is about 100%.
Do not bring nice clothes or nice shoes.  New Orleans is super casual.  Women dressing in sundresses is as formal as you need.
Do not wear open toe shoes.  Just don't.
Bring cash to tip people.  The city makes its money on tourism.  They are not out there to show off their skills.  They are performing to make money.  If you can afford a vacation, you can afford to set aside a little money to give performers.   If you watch the show and you don't pay, I recommend you evaluate your karma.
What other things do you like to do in New Orleans?  Let me know in the comments below!
(Special thanks to Andres Salaverria for taking these photos for me)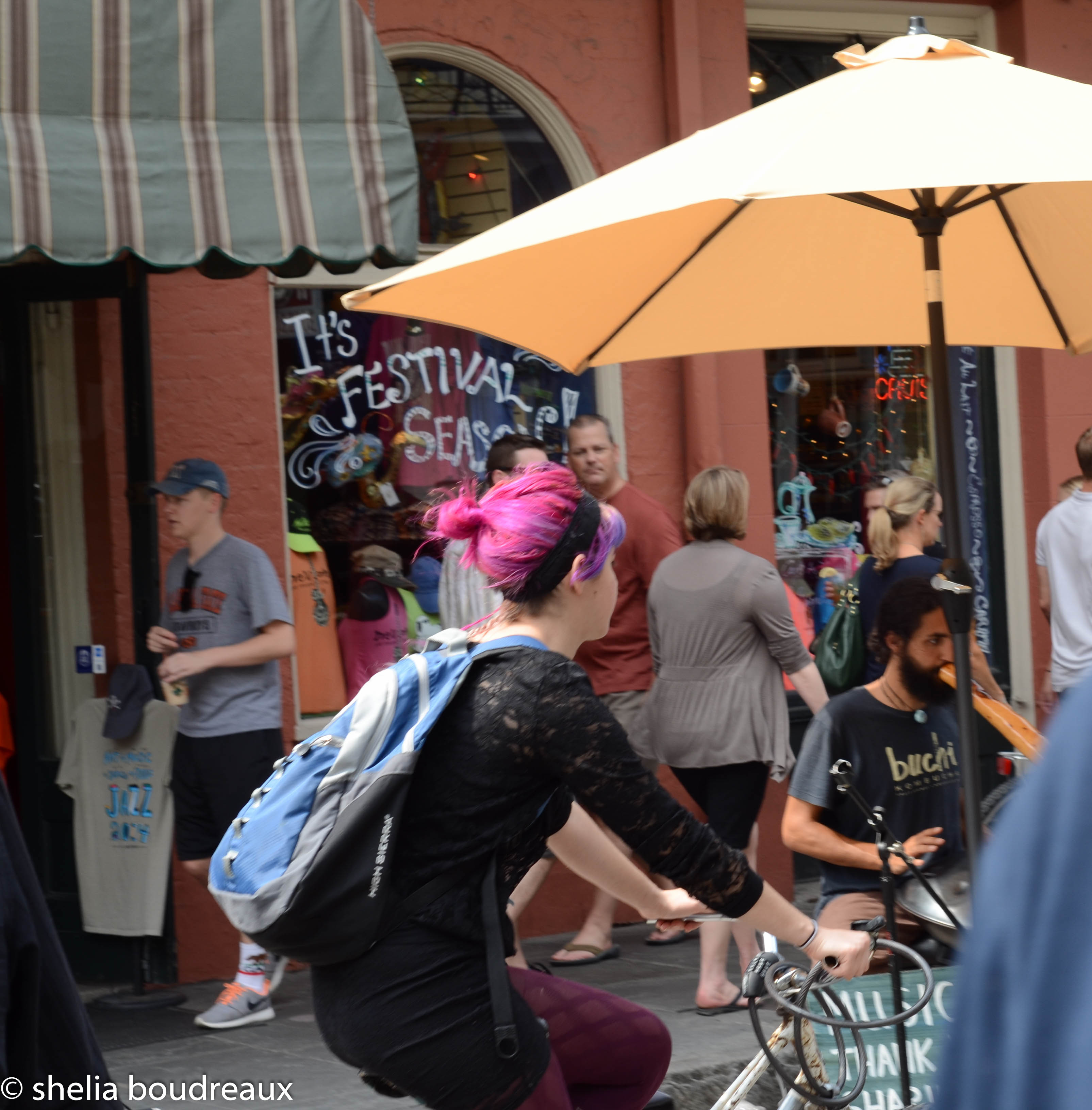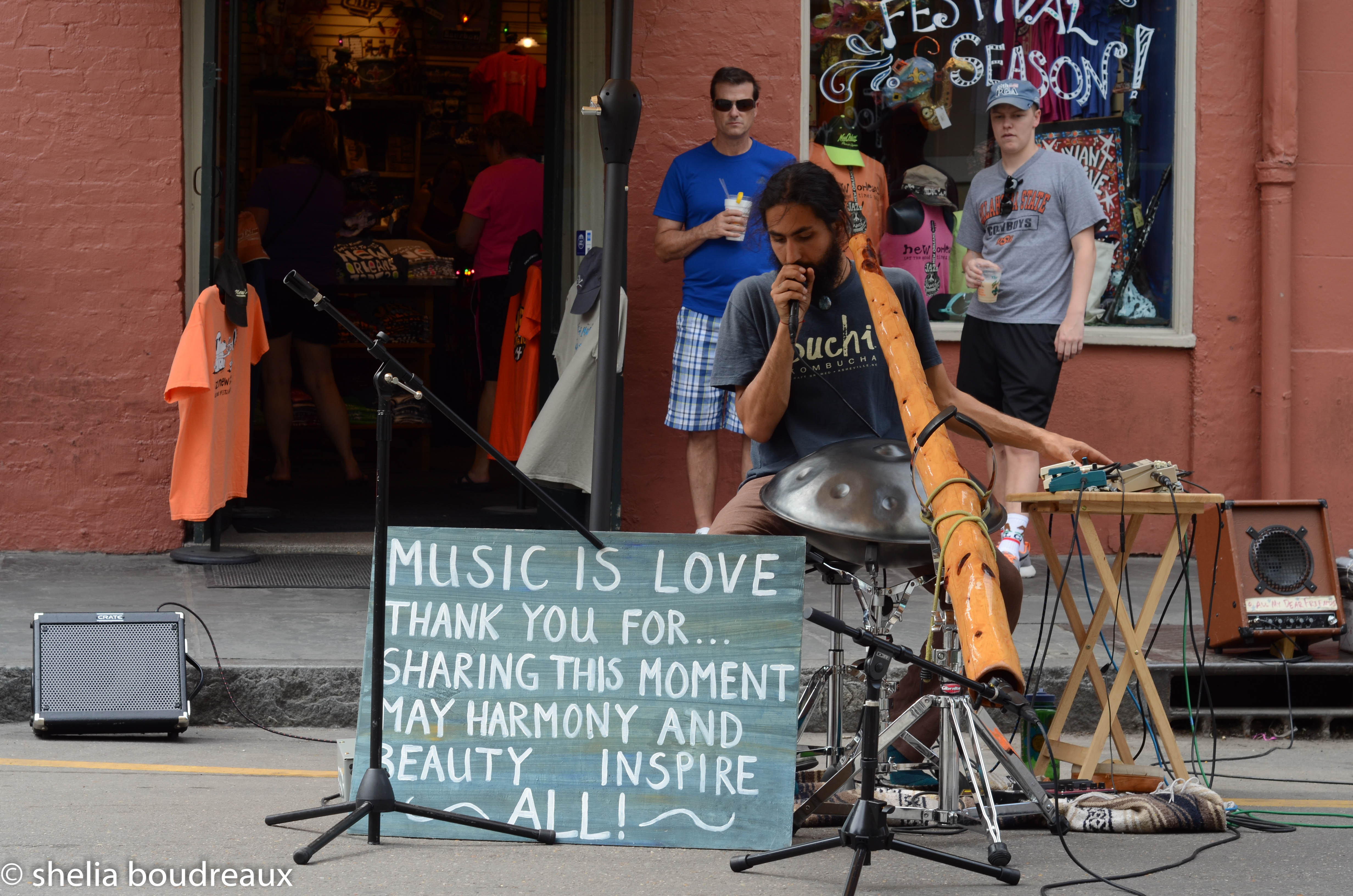 You will see tons of performances like this. See the guys in the back? Do that – get a drink, stand against the wall and just enjoy! And don't forget to tip!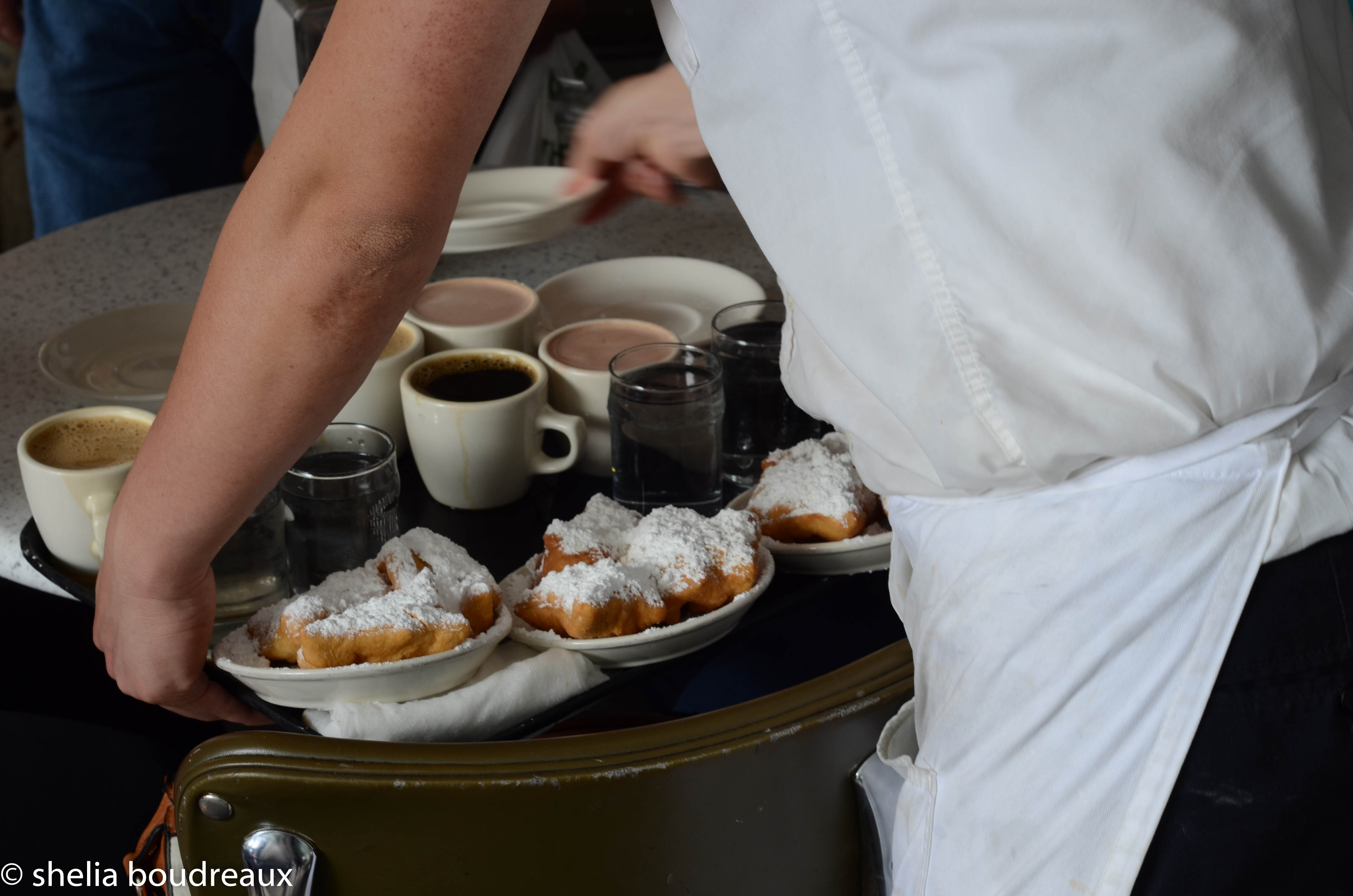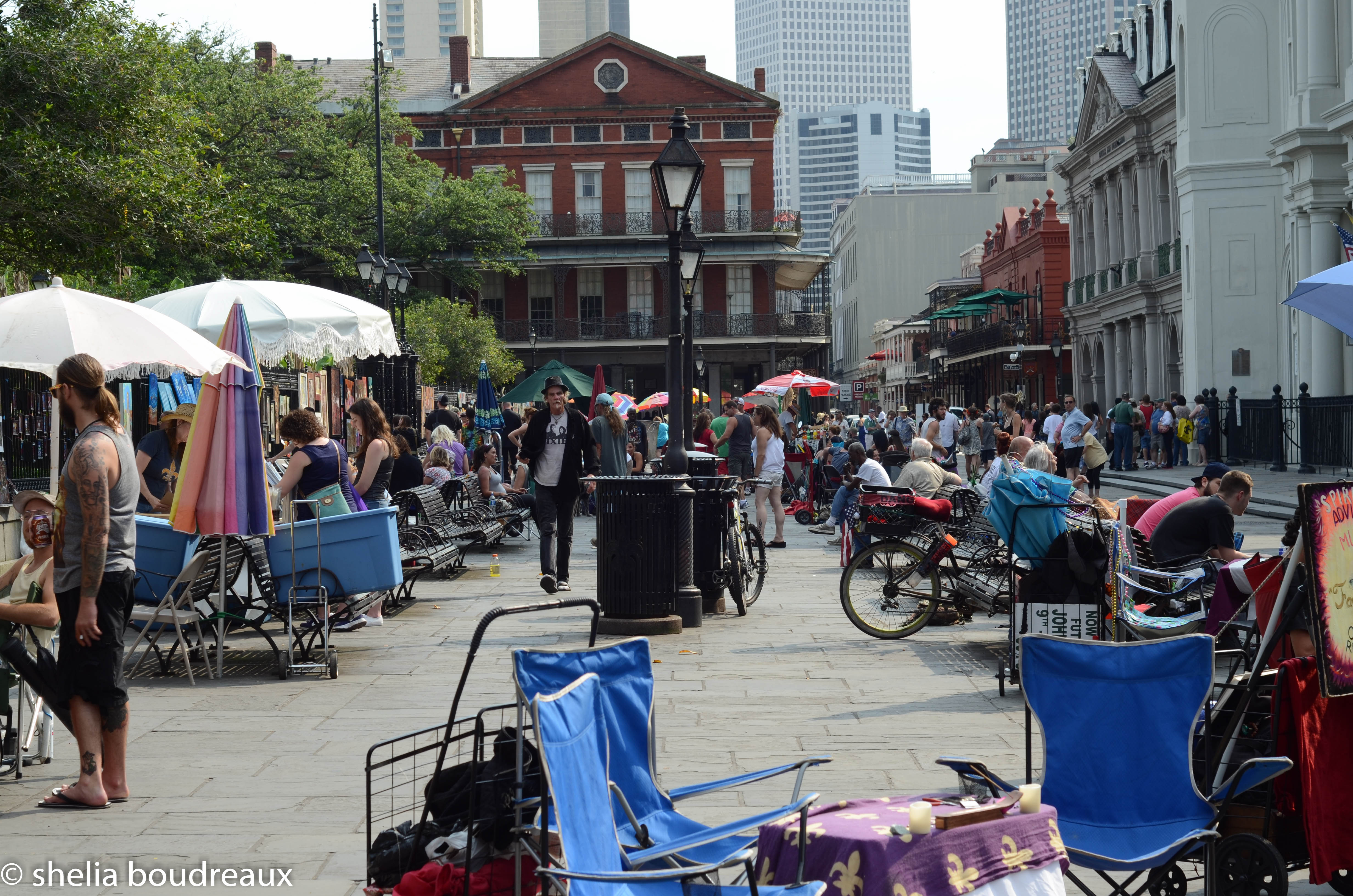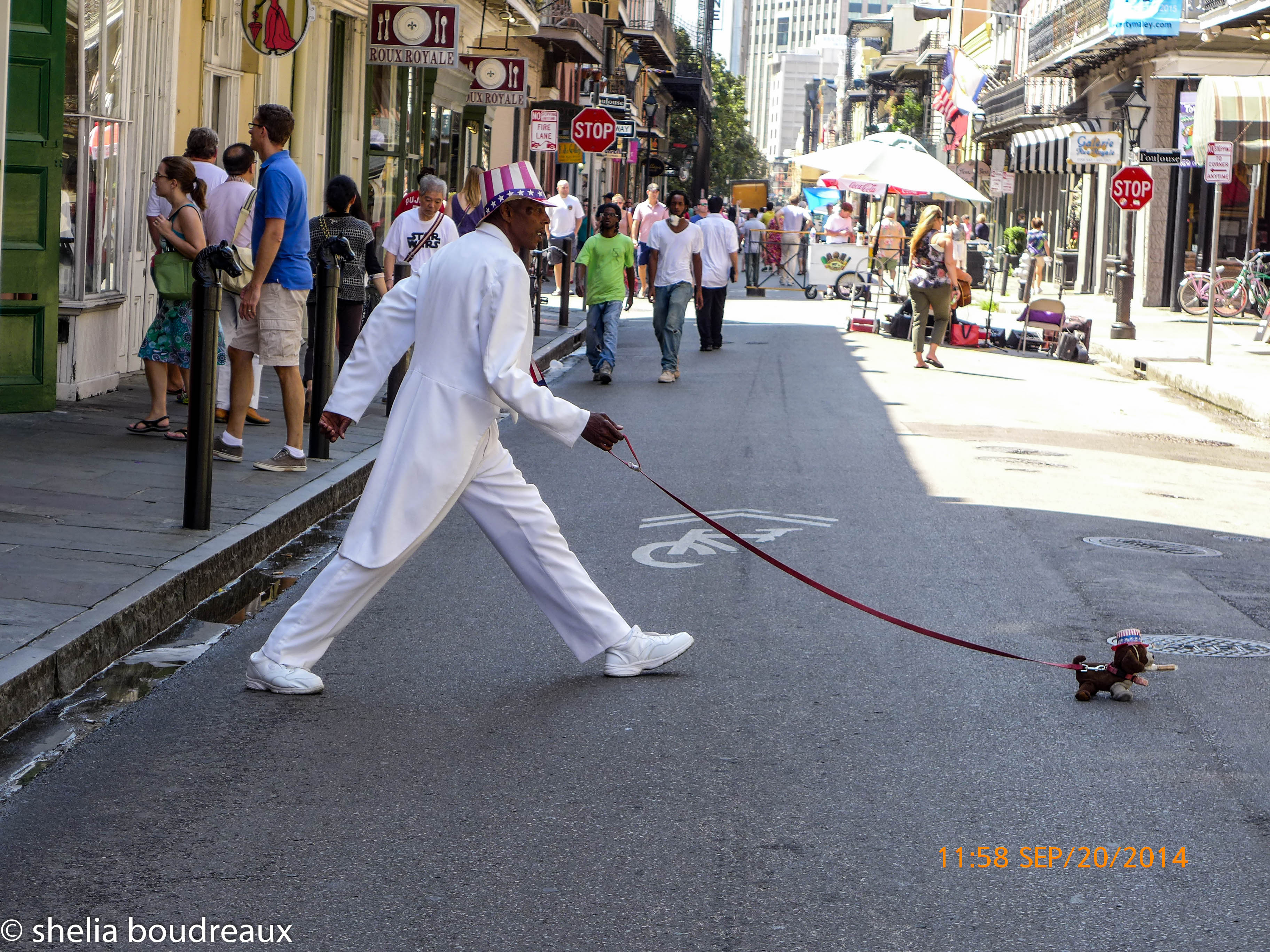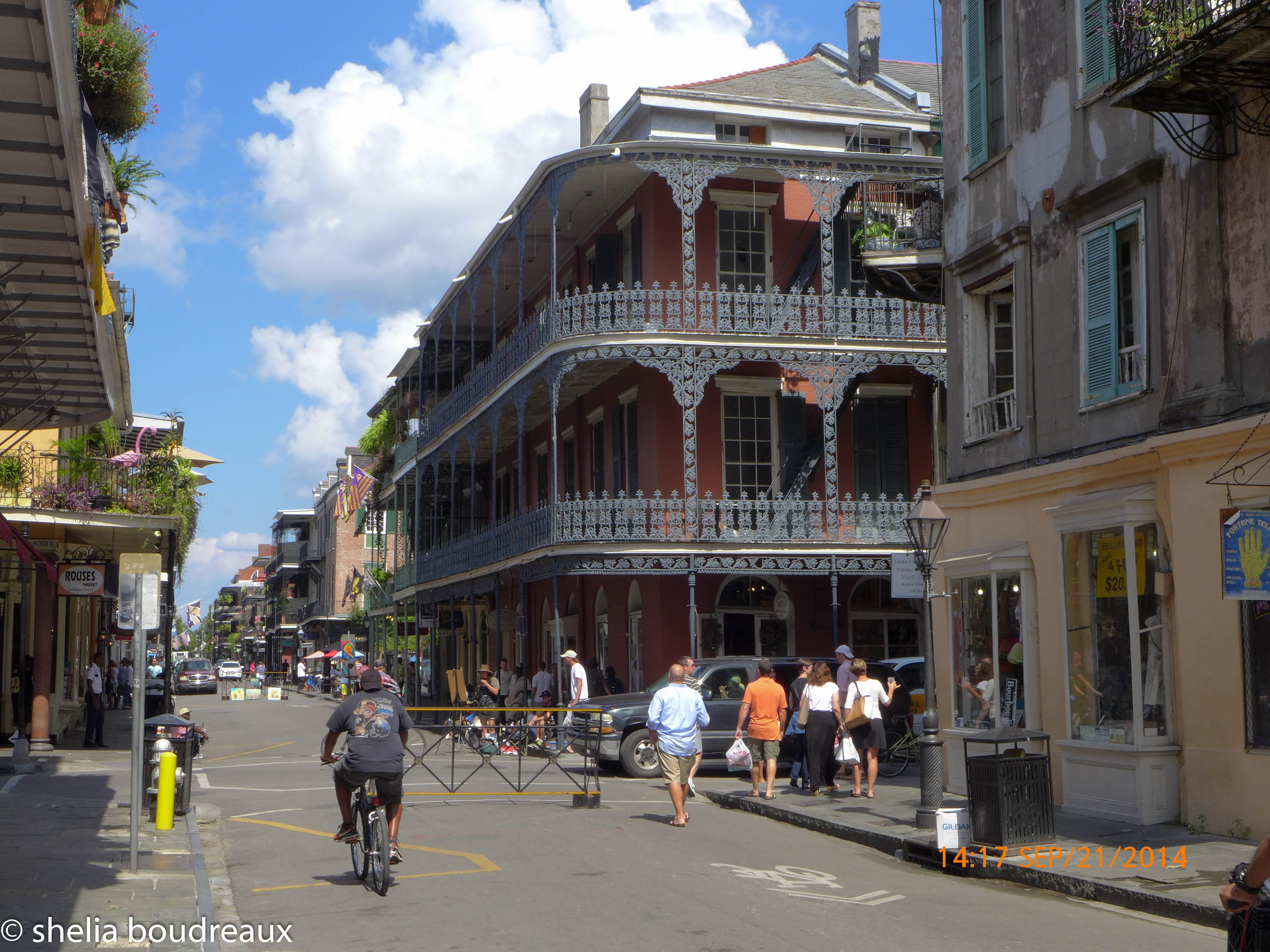 What else??