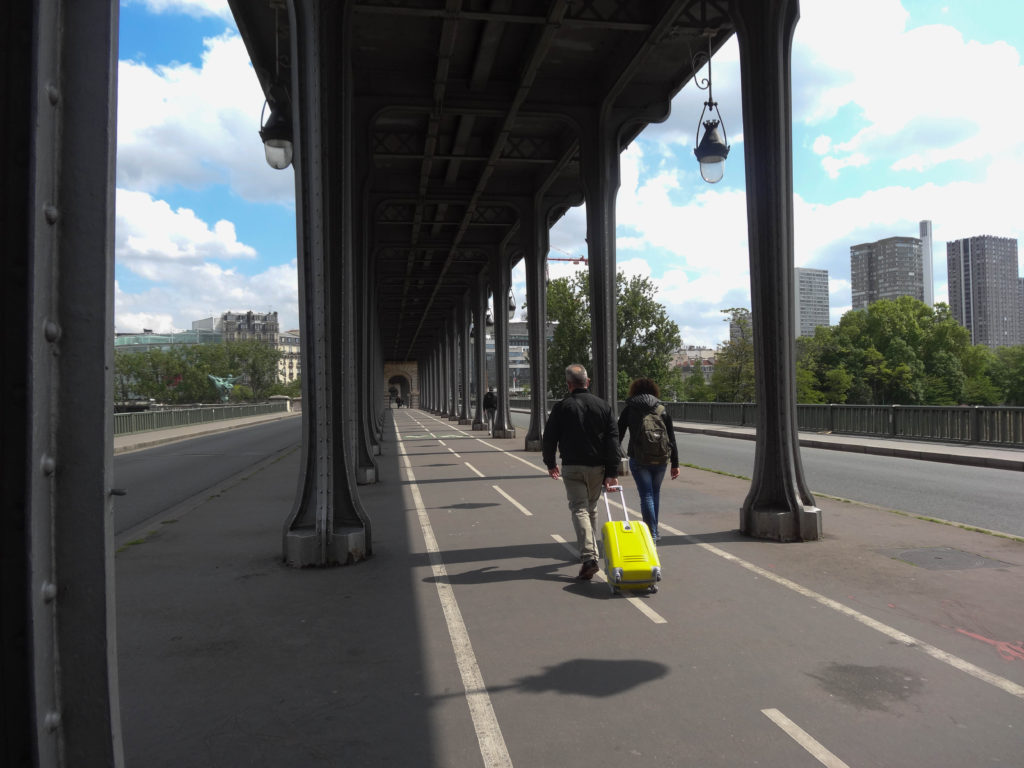 Once we landed in Spain and fortunately had only used carry-on luggage.  When we left the plane there was a significant amount of commotion and we quickly learned that the baggage handlers decided to go on strike.  This happens more often than not, especially in Europe, and we have learned to never check our luggage.  I have put together these seven steps to packing for travel, which is what I use.  My personal best is 20 days with three climates (beach, normal and snowy) with only carry-on luggage.
1. Really determine how many days you are going to pack
This seems so logical, yet people will say they are going to be gone for 10 days and need to pack for 10 days.  This is not true though.  Do you leave on day 1?  Do you need to pack for that day? Are you in the air for day 2? Do you need to pack for the return trip home?  Really sit down and determine how many days you are really packing for and stick to that number.
2. Think hard about what kind of things you really will be doing
Yeah yeah, I know you are going to Paris and are going to run by the river every morning.  But you really will be nursing a hang-over of all that good wine.  Or if you do get up and get going, you need to get to the museums before everyone else does.  Once I packed several party dresses (or suits) to go out in NYC, only after walking all day I had zero energy to dance all night.   Best realistic with yourself.
3. Remember that other cities and countries have stores too
If you find yourself packing items "just in case" and you cannot decide on #2 above, think about if this is something you can purchase while away.   Obviously if you have a stomach medication that you get from your doctor, you may want to bring that if you are worried, but all that cold medicine can be left at home. As a fellow allergy sufferer, I promise that all major cities in the world have medicine (and some have better than what you may be used to getting at home).
4. Tide is sold in travel packs.  Or you can just pack a few pods in a ziplock baggie.
Why do people need to pack more than 3 days of underwear I will never understand.  Unless your aunt has decided to visit that month, there is no need for over packing.  You are on vacation, no one gives a damn about your underwear (and if they do, that should be a red flag).  Wash in the night, hang it up to dry and go to bed.  I do recommend three pairs, because some places will need a full day of drying.
5. Flats.  Unless there is a reason.
Women – Heels are impossible to travel with and are only used for one reason.  So, if you know you are going dancing (see #2 again), and are positive that you need to wear heels for the place you are going, by all means pack those babies!  But if you aren't sure about any of those questions, flats!  Get your self a pretty sparkly pair that you can also wear with pants for dinner in another night and you are good to go.   I have something like these and they are great!
Men –  Can you consolidate your walking and evening shoes?
6. Consolidate as much as you can
Make a high level itinerary for yourself.  You know you are going to three museums, five monuments, 4 parks, 2 shows, 2 days of shopping, etc.  I promise you that no one will know that you are wearing the same outfit twice unless you are wearing a prom dress down 5th avenue (and even then, maybe not). You can totally wear one outfit on both museum days.  If you know you are going to two shows, bring one neutral dress and two scarves.  If you stick to solids or a lot of the same type of colors, your photos will be fine too!
7. Scarves
Women – When I tell you that this will change your packing life, I promise you it will.  Invest in a comfortable black or neutral dress.  Something that won't wrinkle in our suitcase.  Then pack scarves to mix and match.  I have a collection that I have purchased on our trips, some very cheap off the street and some nice in a specialty store.  They are worth the money.  Expect to pay $10 -$80 but they will make one dress look like several.  You can also match them with tank tops and other outfits.  Also, you will need less shirts because you can mix it up with a scarf.
Men – Dark shirts with dark pants is all you need.  No one is looking at you.  They are checking out your girl's beautiful scarves!
Please leave your comments below on any tips you have for us!!