Deprecated
: Function create_function() is deprecated in
/var/www/wp-content/plugins/wp-spamshield/wp-spamshield.php
on line
2029
People are always asking me my favorite places to eat in Paris.  These are my favorite, or reliable, ones as of March 2017.  Please comment below if you have additional favorites to add!
La Trattoria di Bellagio
If you find yourself near Port Maillot, stop by this nice Italian place.  They have a great pizza, good wine and if you are lucky someone will make you a Lemoncello as well.   When we stay at the Meridian this is our go-to late night dinner place.  One trip we ate there almost every night.  Map it
Paris-London
This is a nice little place that I can spend (and have) hours just sitting there watching the world pass by. They have the best croque-monsieur and fries in all of Paris.  The wait staff here is actually rather accommodating so you generally do not have to wait awhile like you would in other places.   Map it
Cafe Di Roma
Near the Franklin Roosevelt station on the Champs Elysees,  there are two pizza places next door to each other.  They are both good.  One usually has a line and I have never figured out why because I like both. Ask for the spicy oil and be prepared for a life changing event!  Map it
Relais Enctrecote
You arrive and generally stand in a line for maybe an hour.  You take your seat and are given a very basic menu.  The only real option here is what type of wine to have.   The waitress will come by and ask how you like your steak.  Just say medium because that is probably what you are going to get.  They bring you a simple salad.  Then heaven arrives.  It is a steak smothered in a sauce that will drive your taste buds wild.  They will give you a second portion too so pace yourself.   The deserts are good too so go slow.
A quick note.  There are many places like this in Paris.  Only go to the ones on this site.  I can't speak for the others.
Allard
Once I was in love with Allard.  It was my go-to french cuisine.  I still recommend it to everyone and like to go back once in awhile.  However, now that I have been to Paris many times to not be intimated, I do not need a menu in English.   The place caters to tourist but is not touristy/fake.  The food is good, especially if you want to try something new for the first time.   Here is their site.
Renault
Yes, the car place.  Go upstairs and have a coffee.  The view of the Champs Elysees is fabulous. The cars are cool to see too!  Check it out.
Rue De Buci – Street
I have several restaurants that are really good all along this street.  Just wander in the area and you will find something that satisfies you.  I can say that I had a memorable cheese plate at L'Atlas that was so good that I want to fly 10 hours back just to have that cheese.  Go here.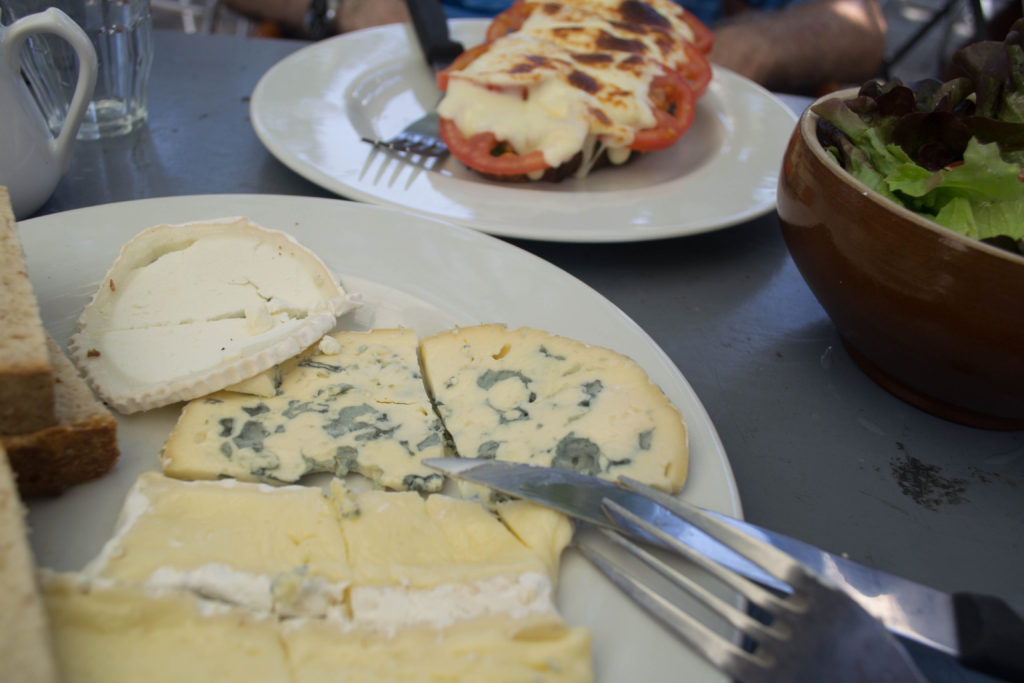 I'll add more as more suggested arrive.  What are your favorite places to eat in Paris?