It is all very confusing as to where you are actually going..  Are you going to Holland, Netherlands, Amsterdam, Dutch-land?  Watch this You Tube Video first as he explains it pretty well. (I also recommend reading the comments because you will get an idea of the Dutch humor/attitude real quick).
Also, don't confuse the Dutch and the Danish.  Here is a link that will help you there: Danish/Dutch.
Now that you actually know where you are going, let's review the city..
According to my TripAdvisor map, I have been to 172 cities (as of 2016).  Amsterdam was the most confusing by far.  Most city planning is based on squares and blocks.  This city is oval.  Yes, oval. Even Prague, who I will write an entire post on how I hate that city set up, is in second. Because once you figure Prague out, you get it.  I was in Amsterdam for three days and never got it.  It is a beautiful, wonderful city, just confusing.
I recommend you make yourself a custom google map, and then print it out.  Several times.  You will get so mad that you will want to throw it in the canal (but don't.. cameras are everywhere).  Do not use the hotel map.  Use your own.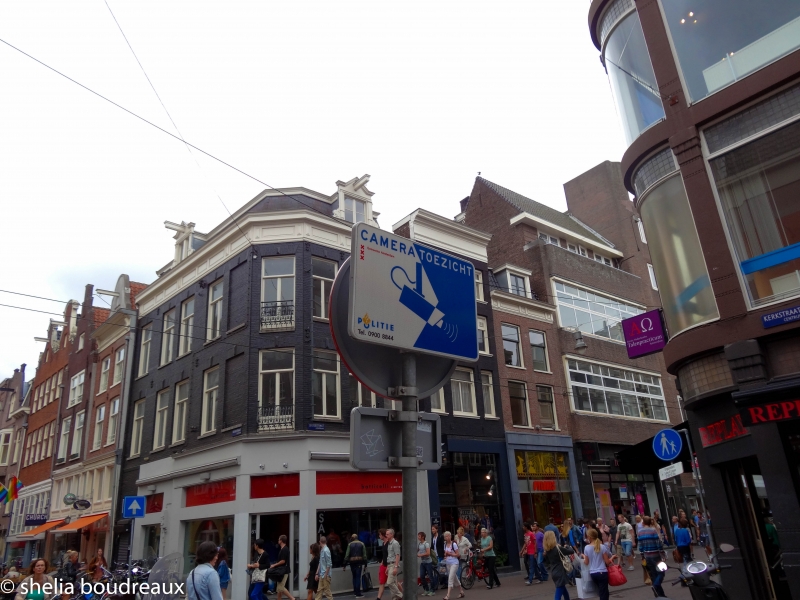 Bicycles
If you know how to ride a bike, rent one.  They are everywhere.  More people are on bikes than cars or walking.  It is rather insane.  We drove into the city, dropped off the car and never used it again.  Driving with all those bicycles is very very intimating.  They know where they are going, you don't.  Rent a bike, or walk.  (you can pretty much walk everywhere anyway).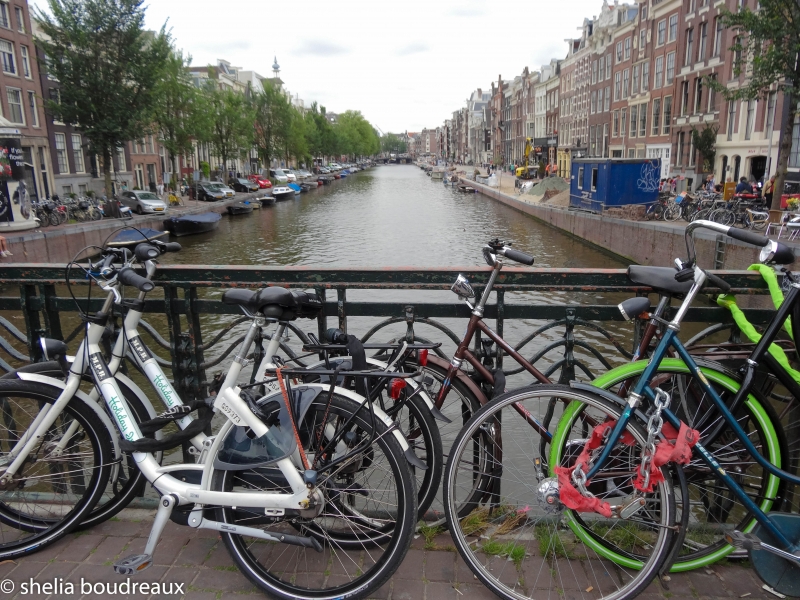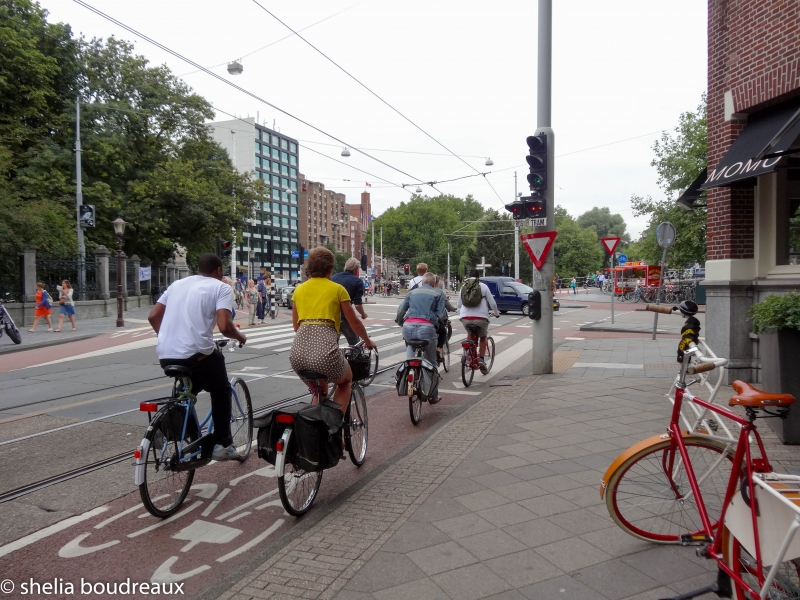 Delft Blue
I really wish I would have bought a ton of this while I was there.  We were at the end of the road-trip of 1,200 miles (read here) and I was just tired.  If I go again though I would spend more time and buy some particular pieces.   Even if you aren't interested, the area outside the Royal Delft Experience (shown here) is a nice place to buy things.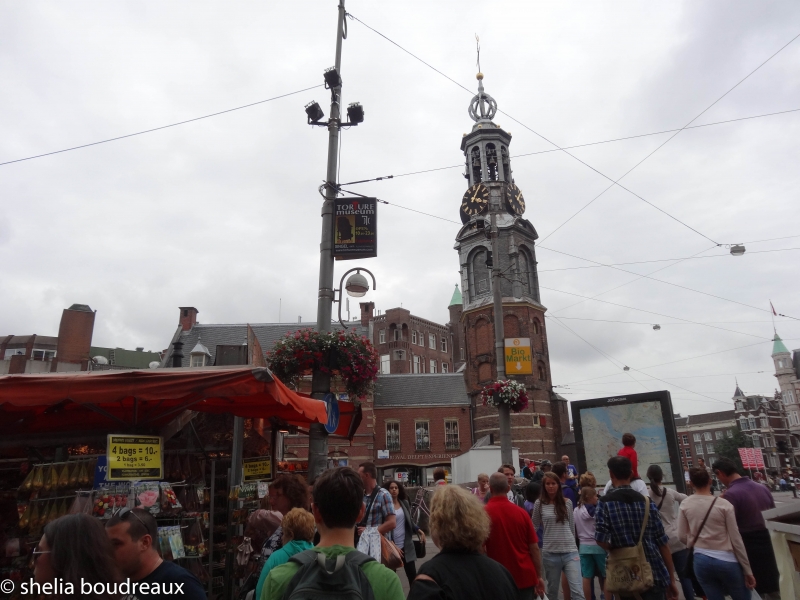 If you like Rembrandt, this is your place.  It is huge, magnificent and over the top.
Ann Frank's House
I did not go here because I make it a point not to visit sad things unless just so very important that I must go. I went to the documentation center in Nuremberg, but you will never get me to go to a camp.   I loved Ann Frank as a child and would like to keep my memories fond.  If you have ever been to a Jewish cemetery or center in Europe you know that it is nothing like anything we could ever have in America. So, I will pay my respects to her in other ways, but no thank you on the tours.
The Van Gogh Museum
I am a huge fan on Van Gough. We drove to Arles to see where he lived.   I have traveled to Chicago to see all three bedroom paintings together.   The Van Gogh museum was crowded.  The lines to get in wrapped around the street and down the road.  Had we known, we could have purchased the tickets online to get into a time queue.  I did not get to go inside, but we did visit the property, including the store that had some quite good items.
We have a little saying that you should always leave something on the table to come back to and this museum was what I left.
However, if you do go, or are just interested in art, check out Artsy.  This links specifically to the Van Gogh page but look around at the others too.  It's a great site and we should all support their mission to make art available to everyone.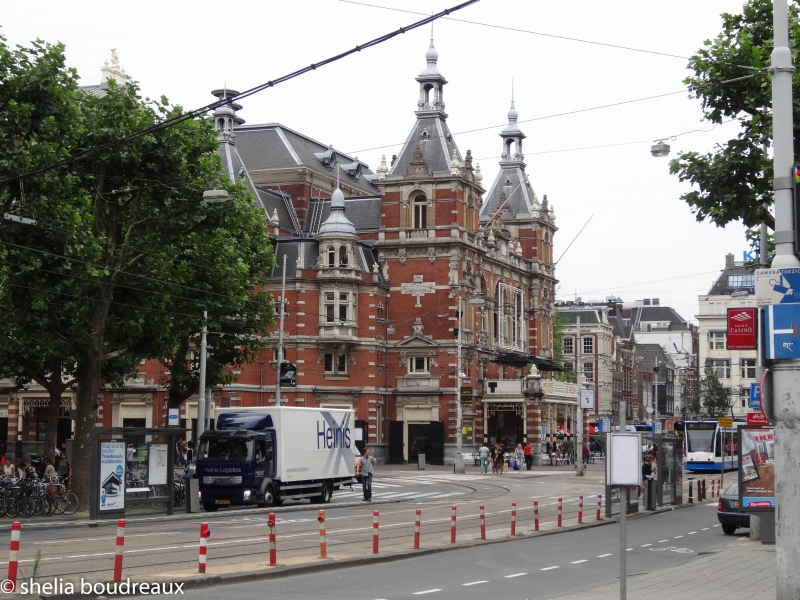 Dam Square
I think we may have spent the whole day at Dam Square had we the time.  We love to people watch and this is the place to do it.
This article on TripAdvisor gives you a listing of everything to do around the square.  But you can sit in a cafe that is gezellig (or coffee shop if that's your thing – keep reading) and just take it all in.
Rosse Buurt
There is no one "red light district" but rather many many streets with red lights.   I say this because even if you decide you are not going to see this area, you might find yourself in it anyway.  We even saw red lights around our hotel which was surprising given the area.
While a bit sad, it is done the best way it could be done.  The way it works is the women have little rooms the size of a large closet.  Then they stand in the windows.  They are not walking around and are fully protected behind the glass.  If the men want to meet with them they strike a deal.  The women for the most part are Eastern European, blonde, and beautiful.  Yes, some look like women of the night, but most are very very pretty.
Some are standing there dressed up and some are naked.  All have a red light above their window and if they are busy the curtain is closed.
If you venture there, do not under any circumstances take your camera out.  The hubs was holding his, but not using it.  One of the social workers came out of her glassed-in area and began screaming at him. Obviously they want their privacy and that is understandable.
So, after about 10 minutes of seeing this spectacle, you have seen probably enough.  Box checked move along.  Of course I found myself continuously seeing these red lights all over the place and it was rather annoying after awhile.
Coffee Shops
Do not mistake Coffee Shops for a Starbucks.
While Americans are starting to get a little tolerant of pot usage, it is a little surprising for those of us that live in the south to see someone light up in the middle of a cafe.  Just know where you are going and if you find yourself in a situation you don't like, leave.  You are not obligated to do or be anywhere.
Things to remember:
Take your own map and know where you are going ahead of time
You will get lost, just go with it
Do not go into a coffee shop unless that is your thing
Buy Van Gogh museum tickets online before you go so you don't have to stand in a long line.
Enjoy yourself.